In Chariots of the Dogs, the time-traveling elevator is operated using so-called time cards, which encode the time and place to be traveled to. The intended time cards are printed by the computer in the T.H.E.M. spaceship, but Bosco modified a carbon dater into a "time scanner" that creates time cards compatible with the system. These cards always lead to a birthday of the person being scanned; it's unclear how the year is determined.
Seven time cards seen in-game, all detailed below. The blank card is obtained by reprinting the Soda Poppers card when the ink runs out. There are no time cards for Grandpa Stinky or Pedro. Scanning Mr Featherly gives another blank card.
Season Two case file and the secret
Edit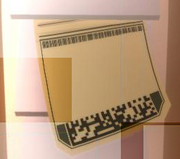 Each Season Two Case File contains a replica of a time card, randomly selected from among the non-blank cards. Two barcodes are contained on the card. The first barcode reads TIMEMARIACHIS.BIZ, a Telltale-hosted site supposedly run by T.H.E.M.. The second barcode varies. As of September 21, 2008, the second barcode can be manually entered at timemariachis.biz to obtain parts of a picture, differing per time card. The picture fragments from the six time cards combine into a single complete picture, a high quality render of T.H.E.M. in the elevator at the Soul Crushing room (possibly referencing the Chariots of the Dogs finale).
The completed picture depicts another time card in the elevator (hinted to be the blank card). The barcode section of this time card is fully visible, and can be used at timemariachis.biz for a final reward: entering it leads to a page containing downloads for an acoustic and a "special" version of La Canción De Los Mariachis. This "Versión Especial" is an early demo version performed by Jared Emerson-Johnson.
External links
Edit
timemariachis.biz
Telltale Games forum thread re timemariachis.biz
Ad blocker interference detected!
Wikia is a free-to-use site that makes money from advertising. We have a modified experience for viewers using ad blockers

Wikia is not accessible if you've made further modifications. Remove the custom ad blocker rule(s) and the page will load as expected.