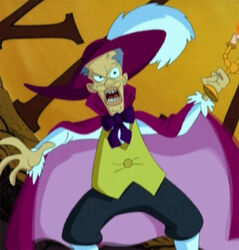 The Mad Thespian is one of the villains Sam & Max face in The Adventures of Sam & Max: Freelance Police. He appears in the episodes The Friend for Life and The Final Episode.
Character detail
Edit
He is an over-dramatic actor who lives in a dilapidated theatre. His backstory, including his reasons for turning evil, are open to speculation. Sam & Max treat him like just another criminal to add up to their promotion.
He gets kidnapped by Lorne in The Friend for Life, which mixes him up with Lorne's desperate attempt to make Sam & Max spend time with him. The Freelance Police do rescue The Mad Thespian, but show no mercy when booking him in.
He bears a strong physical resemblence to Lon Chaney's 1925 silent portrayal of The Phantom of the Opera.
Ad blocker interference detected!
Wikia is a free-to-use site that makes money from advertising. We have a modified experience for viewers using ad blockers

Wikia is not accessible if you've made further modifications. Remove the custom ad blocker rule(s) and the page will load as expected.