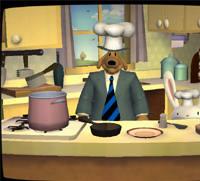 This page is for fictional shows within the Sam & Max universe. For the real-world animated series starring Sam & Max, see The Adventures of Sam & Max: Freelance Police.
This page lists television shows that appear in the Sam & Max universe.
WARP shows
Edit
Situation: Comedy introduces the WARP studios, which produce a number of television shows. All of these are directed by The Director and follow her philosophy of putting revenue before quality. Several more appear in machinima shorts. Sam & Max feature in most of these shows.
Midtown Cowboys
Edit
Main article: Midtown Cowboys
A highly successful sitcom starring Sam & Max and Mr Featherly, revolving around hiding a cow. An important product placement vehicle.
Embarrassing Idol
Edit
A televised talent show similar to American Idol. Sam's Banjo Song was the winning entry in an episode judged by Max and two of the Soda Poppers.
Cooking Without Looking
Edit
A cooking show which has at one point featured Sam & Max as guest hosts.
Who's Never Going to be a Millionaire?
Edit
A notoriously difficult quiz show. Sam & Max appear in an episode guest hosted by Hugh Bliss. They manage to win by switching out the question cards, but have to settle for a million dollars in food stamps as WARP doesn't have that much cash on hand.
A talk show hosted by Myra Stump. During Situation: Comedy the audience is held captive through hypnosis, prompting Sam & Max to head to the studios.
Four Freaks in a Terribly Cramped Office
Edit
A reality show. The machinima short Reality Blights is about an episode in The Office starring Sam, Max, Mr Featherly and Specs.
Egregious Philosophy Platter
Edit
A short philosophy program hosted by Sam & Max. Featured in the machinima short of the same name.
Fun in the Kitchen With Sam and Max
Edit
A cooking show hosted by Sam and Max, using the same set as Cooking Without Looking. Featured in the machinima short Kitchen Consequential.
Other shows
Edit
Ad blocker interference detected!
Wikia is a free-to-use site that makes money from advertising. We have a modified experience for viewers using ad blockers

Wikia is not accessible if you've made further modifications. Remove the custom ad blocker rule(s) and the page will load as expected.