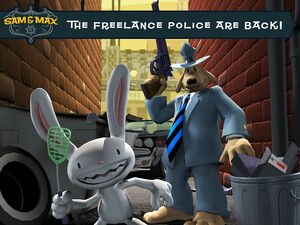 Sam & Max is the title of an episodic series of video games by Telltale Games starring the duo. Three seasons have been made. With Telltale Games' very existence being an indirect consequence of the cancellation of Sam & Max: Freelance Police, the Sam & Max series might be said to be Telltale's raison d'être. At any rate, it put them on the radar and continues to be their largest (and most well-received) single project.
The first season was initially co-published with GameTap, then brought to retail with JoWood (and The Adventure Company, a branch of the JoWood-owned DreamCatcher Interactive). The second season was also initially co-published with GameTap, and will be brought to retail with Atari in 2009.
For the plot, see the individual seasons and episodes.
Characters
Edit
See Category:Telltale Characters for a list of characters unique to the Telltale series.
Season One - Sam & Max Save the World
Season Two - Sam & Max Beyond Time and Space
Season Three - The Devil's Playhouse
External Links
Edit
Official site of Sam & Max Video Game Series
Telltale blog post on Season Two retail
Ad blocker interference detected!
Wikia is a free-to-use site that makes money from advertising. We have a modified experience for viewers using ad blockers

Wikia is not accessible if you've made further modifications. Remove the custom ad blocker rule(s) and the page will load as expected.