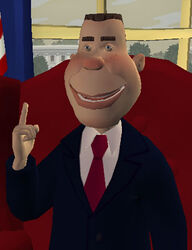 "Mr President" and "The President" redirect here. For his successor, see Max. See also Abraham Lincoln.
The Puppet President, whose name is unknown, was the President of the United States at the beginning of Abe Lincoln Must Die!.
Character detail
Edit
The episode starts when the Freelance Police find out that he has been passing a variety of insane laws. After some initial investigation they soon conclude he has been hypnotized by Chuckles, and Max tries to knock him out. Instead, his head falls off, revealing him to be a mere puppet. (His head shows up as a souvenir in later episodes.) Chuckles is remarkably unbothered by this turn of events (especially for a Secret Service agent), and simply has Abraham Lincoln run for president instead.
Voiced by
Edit
Doug Boyd
Ad blocker interference detected!
Wikia is a free-to-use site that makes money from advertising. We have a modified experience for viewers using ad blockers

Wikia is not accessible if you've made further modifications. Remove the custom ad blocker rule(s) and the page will load as expected.