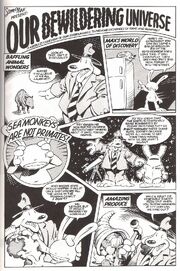 This article is about the comic, which is not to be confused with the animated series short and flash short of the same name.
Our Bewildering Universe is a 1-page Sam & Max comic first published in 1989.
Sam and Max discuss various topics. A needless overview of our surroundings to provoke exchanges of ideas and gunfire! The topics they discuss are: "Baffling Animal Wonders", "Max's World of Discovery", "Sea Monkeys are not Primates" and finally "Amazing Produce".
Characters
Edit
Ad blocker interference detected!
Wikia is a free-to-use site that makes money from advertising. We have a modified experience for viewers using ad blockers

Wikia is not accessible if you've made further modifications. Remove the custom ad blocker rule(s) and the page will load as expected.