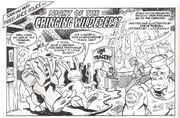 Night of the Cringing Wildebeest is a 3-page Sam & Max comic first published in 1987.
Sam & Max visit the carnival, carrying out an assignment for The Commissioner concerning bad trouble at the refreshment booth. After a quick sample Sam determines that the booth is selling bootleg corndogs from South America. They deal with the vendor and have some more fun.
Characters
Edit
The carnival features the Cone of Tragedy and the Human Enigma, both of which are seen again in the carnival in Sam & Max Hit the Road.
Ad blocker interference detected!
Wikia is a free-to-use site that makes money from advertising. We have a modified experience for viewers using ad blockers

Wikia is not accessible if you've made further modifications. Remove the custom ad blocker rule(s) and the page will load as expected.