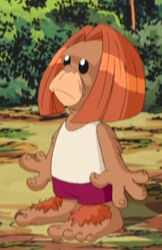 Jojo is from The Adventures of Sam & Max: Freelance Police's episode Little Bigfoot.
Character detail
Edit
Jojo is a clever, resourceful, and mute bigfoot child. He is the son of "Glamorous Gerte (the Wild Woman of Borneo)" and the man who owns "Jungle Boogie Dino Park". He works in his family's "Jungle Boogie Dino Park" diner/gift shop.
Sam kidnapped him (thinking Jojo was held against his will and with intention to setting him free into the wild). But after their expedition into the woods and finally caught by the police, Sam and Max learn that Jojo is actually half-bigfoot and has parents.
Ad blocker interference detected!
Wikia is a free-to-use site that makes money from advertising. We have a modified experience for viewers using ad blockers

Wikia is not accessible if you've made further modifications. Remove the custom ad blocker rule(s) and the page will load as expected.