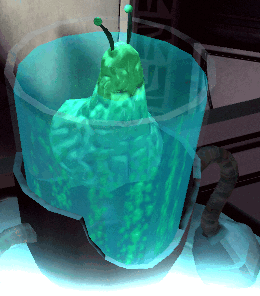 Gordon is a disembodied alien brain. Appears in Sam & Max Season Three.
Character Detail
Edit
In The Penal Zone, Gordon explains that before he was captured by General Skun-ka'pe, he was extremely popular on his planet, and was of a species apparently resembling the platypuses of Earth. Like Max, Gordon possesses the gift, which he used to impress the women of his planet. He was trapped on board General Skun-ka'pe's Flagship, promised candy by the warlord. Skun-ka'pe kept his brain, using it to harness of abilities of the Toys of Power.
By the time Skun-ka'pe arrived on Earth, Gordon's brain had apparently died. He was brought back to life by the Freelance Police, after which he assisted them in stopping Skun-ka'pe and using the Toys of Power. He appears to die again near the end of the episode after using his last bit of energy to distract Skun-ka'pe.
Voiced By
Edit
Andrew Chaikin
External links
Edit
Ad blocker interference detected!
Wikia is a free-to-use site that makes money from advertising. We have a modified experience for viewers using ad blockers

Wikia is not accessible if you've made further modifications. Remove the custom ad blocker rule(s) and the page will load as expected.