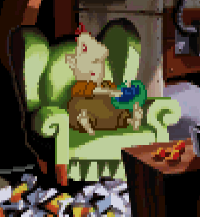 Doug the Mole man is a side character in Sam & Max Hit the Road.
Character Detail
Edit
Doug lives in the Tunnel of Love control room at the Kushman Brothers' carnival, where he spends most of his time watching TV.
He loves pecan candy and asks some from Sam and Max to tell them what really happened with Bruno and Trixie.
He also gives them the "key" to Trixie's trailer, and points them towards his uncle, Shuv-Oohl.
Voiced By
Edit
Ad blocker interference detected!
Wikia is a free-to-use site that makes money from advertising. We have a modified experience for viewers using ad blockers

Wikia is not accessible if you've made further modifications. Remove the custom ad blocker rule(s) and the page will load as expected.