The DeSoto T-Shirt
Edit
Flaming Max Hat
Edit
The Telltale Shop sells two variations of a baseball cap with the flaming Max logo on the front. You can choose between the red logo on black or white and red logo on green. The shop sells them for $15.99 each.
Max & Crossbones Hat
Edit
Max & Crossbones T-Shirt
Edit
Premiered at San Diego Comic-Con 2006, this black shirt has green and white crossbones in the shape of Max on the front. It is currently being sold at the Telltale Shop for $18.99.
Animated Series Production Crew Jacket
Edit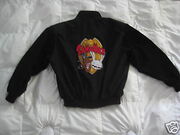 These sports/bomber jackets were only sold to crew members who worked on the animated series. They are all black with a large embroidered color Sam & Max title card logo centered on the back. On the front, a small red flaming Max logo is embroidered on the left breast. Two have been seen on eBay and the price varied from around $350~100.
Ad blocker interference detected!
Wikia is a free-to-use site that makes money from advertising. We have a modified experience for viewers using ad blockers

Wikia is not accessible if you've made further modifications. Remove the custom ad blocker rule(s) and the page will load as expected.