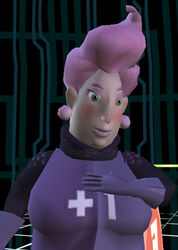 Auntie Biotic makes a brief appearance in Reality 2.0.
Character detail
Edit
With her +1 armor and her frying pan she protects Reality 2.0's mail system from being tampered with. Sam & Max eventually defeat her using a +2 Sword and a bunch of pop-ups. Auntie Biotic looks and sounds exactly like Myra Stump.
Voiced by
Edit
Dorothy Gallagher
Ad blocker interference detected!
Wikia is a free-to-use site that makes money from advertising. We have a modified experience for viewers using ad blockers

Wikia is not accessible if you've made further modifications. Remove the custom ad blocker rule(s) and the page will load as expected.